Fort Lauderdale Aquatic Center Dive Tower
Location of Project - City:
Location of Project - Country: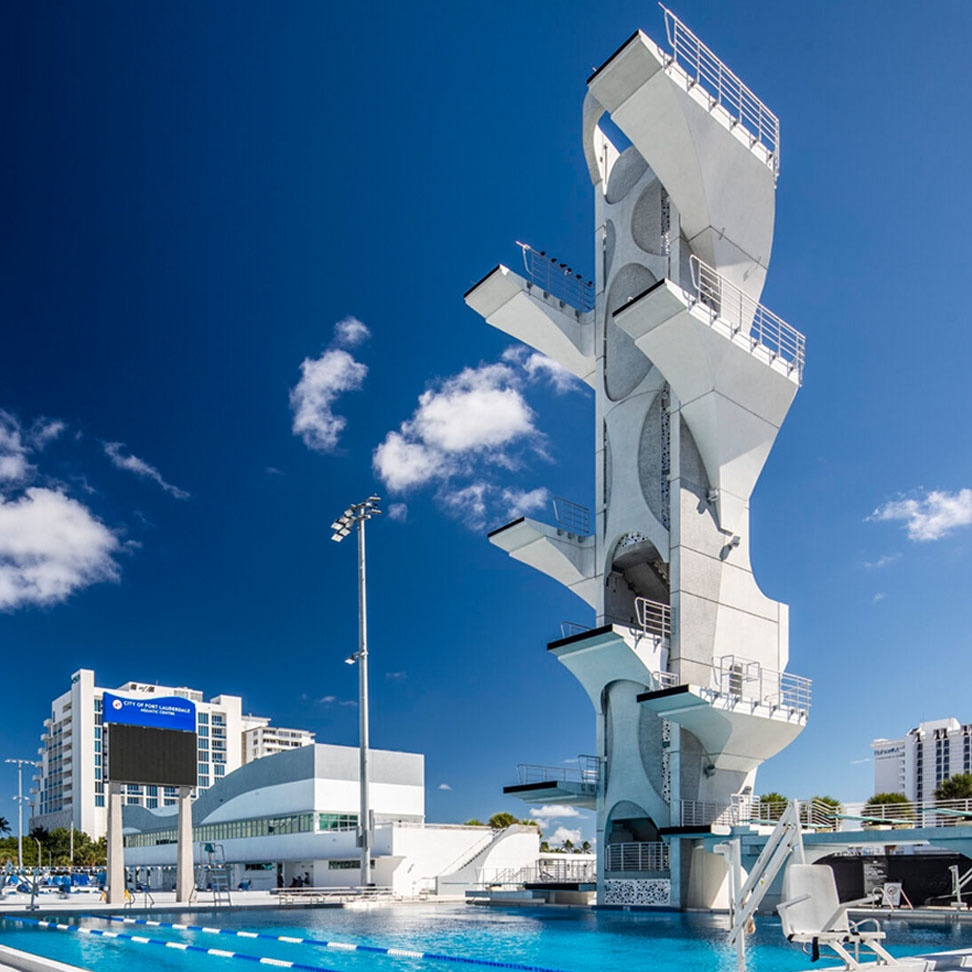 The Fort Lauderdale Aquatic Center reopened in June 2022 after a $27 million renovation, boasting the Western Hemisphere's tallest dive tower at 27 meters. This precast concrete structure is the world's first to combine diving and high diving platforms for competitions, meeting international standards. The center also features new competition, diving, and instruction pools, making it a premier venue for aquatic sports and events.
Scope of Work:
e.construct has redesigned the Fort Lauderdale Aquatic Center Dive Tower project by transitioning from CIS to a precast system, enhancing structural integrity. Our team designed intricate GFRC panels, seamlessly integrating complex three-dimensional curves into the architectural vision.
The GFRC panels flawlessly blend with the precast concrete elements, highlighting e.construct 's dedication to both robust structural solutions and impeccable design harmony, setting new construction standards.
Consultants:
WSP
Southeastern Precast Erectors
GATE Precast Company
STABIL Concrete Products LLC
PRETECSA SA
Special Feature:
The iconic 26-meter tall dive tower showcases two-toned architectural precast concrete with light and medium textures, enhanced by a sandblasted finish. The total precast concrete system includes 96 unique components, such as architectural precast elements, structural walls, dive platforms, and GFRC panels, creatively merging to achieve a highly complex structure. The tower faced significant design challenges, including three-directional curves, meeting high-diving standards, withstanding strong winds, and constructing long cantilevered diving platforms with limited deflection allowance.
Other Photos