Palace of Justice
Location of Project - City:
Location of Project - Country:
e.construct Services:
Value Engineering
Structural Engineering
Geotechnical Engineering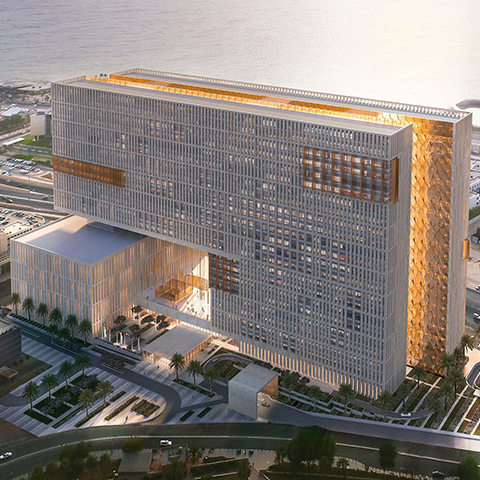 The Palace of Justice is a department building for the Ministry of Justice located in the Al Qibla area. The structure includes 20 floors of office space, a ground floor with a mezzanine, 3 basement parking floors and a robotic parking space. The project is split into two phases that will be constructed separately and connected by an 86 m span steel mega truss.
Scope of Work:
e.construct optimized both concrete and steel elements in the superstructure. This included the investigation of alternative structural systems, the use of higher concrete grades and outrigger systems to enhance the overall design. The piled raft foundation was value-engineered using soil-structure interaction analysis to reduce the number of required piles. e.construct also provided façade engineering services.
Owner:
State of Kuwait / Al Amiri Diwan
Clients:
Al Kharafi Construction Co. K.S.C.C.
Consultants:
PACE architecture engineering + planning
Contractors:
Mohamed Abdulmohsin Al-Kharafi & Sons
SIZE OF PROJECT:
450,000 m2
Architectural Render